Spelling Tutor Trial Results
2018 Trial
Avg Spelling Improvement
10.5 Months
Length of Intervention
3 Months
Research Design
One group pre-test/post-test study
Age Range
Y4 - Y9 (8 - 14 year olds)
Inclusion Criteria
Pupils were all identified by their SENCO as having a spelling age of at least 12 months behind their chronological age
Results
On average pupils' spelling age improved by 10.5 months over the 3-month period.

The Ratio Gain shows Substantial Impact
No of Pupils
53 pupils from 7 schools
Test Used
Vernon Spelling Test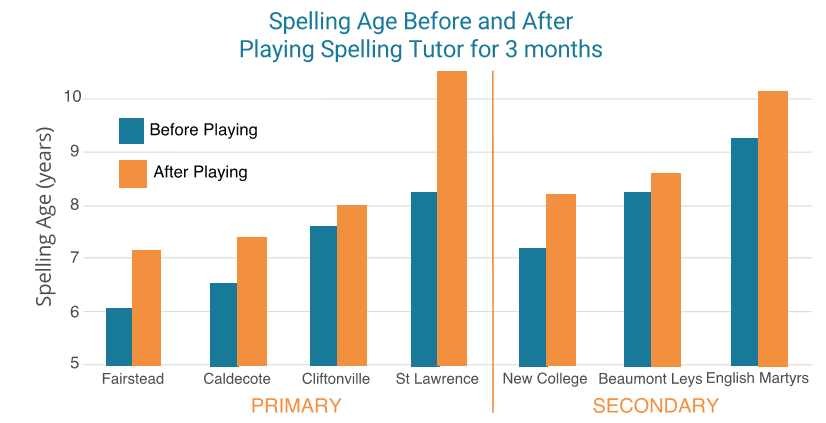 Spelling Tutor
Improves Spelling
Evidenced Based
Personalised, Structured and Multisensory
Takes 15 minutes a day
Suitable for ages 6+
---
Children's spelling improved by an average of
10.5 months in a single term
Spelling Tutor teaches the 1,000 most common words, which is 90% of the words we use every day.
In order to spell correctly you need to memorise the spelling of each word. You can't use phonics to know if sheep should be spelled sheep or sheap, you have to remember.
The children that have used Spelling Tutor have absolutely loved it! We've found it particularly useful for our older children that have done all our other interventions to death.
Lesley Humphries, ASL Teacher, Ratho Primary School
Writing is the best way to learn spellings, so Spelling Tutor dictates words and sentences for children to write out by hand.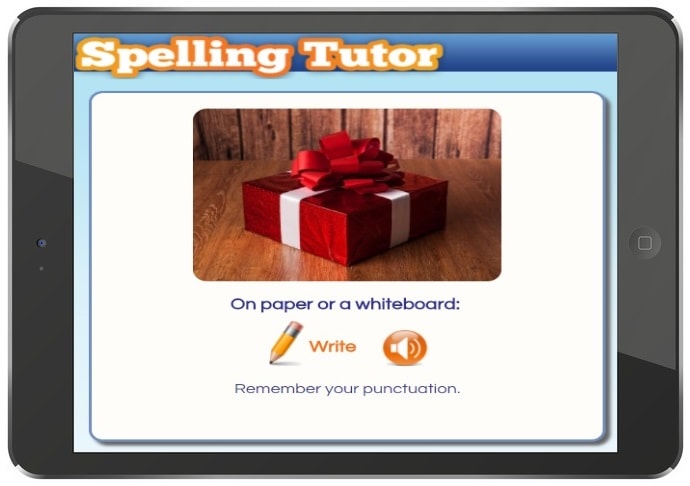 Spelling Tutor then uses spaced repetition, to retest words that were spelled incorrectly over a few weeks. Using this unique formula children make impressive gains in spelling.
In order for a word to be marked as learned, the child has to get it right 7 times, over 21 sessions. This transfers the correct spelling to long term memory.
Children mark their own work, taking complete ownership for their learning.
---
Evidence Based Intervention
Spelling Age improved, on average, by 3.5 months for every month Spelling Tutor was played.
Suitable for Primary and Secondary school children.
---
Personalised
Spelling Tutor remembers which words each child gets wrong, and repeats them
Words are tested again and again, with increasing gaps between each test.
This transfers the spelling to long term memory.
Structured
Spelling Tutor teaches the 1,000 most common words, plus all the words in the English national curriculum.
Choose from one of 6 starting levels.
It also contains lessons on homophones, suffixes and apostrophes.
Multisensory
Learn to spell by reading, writing, listening and speaking.
Reading - First the child reads the passage out loud.
Writing - Then they write it out from dictation.