Dyslexia Gold Trial Results
Program
Engaging Eyes
Spelling Tutor
Fluency Builder
Avg Improvement
12 months (Reading)
10.5 Months (Spelling)
7.5 Months (Reading)
Age Range
KS1, KS2 (6 - 11 year olds)
KS2 (7 - 11 year olds)
Y4 - Y9 (8 - 14 year olds)
No. of Pupils
402 pupils from 49 schools
40 pupils from 4 schools
53 pupils from 7 schools
Length of Intervention
3 Months
Research Design
One group pre-test/post-test study
Inclusion Criteria
Pupils were all identified by their SENCO as having a reading age of at least 12 months behind their chronological age
Test Used
New Salford Reading Test / Vernon Spelling Test
Dyslexia Gold goes beyond phonics to create fluent readers and writers.
Reading improves by 12 months in a term

Spelling improves by 10.5 months in a term

Dyslexia Gold is an evidence based program to help pupils who aren't making progress despite high quality phonics teaching.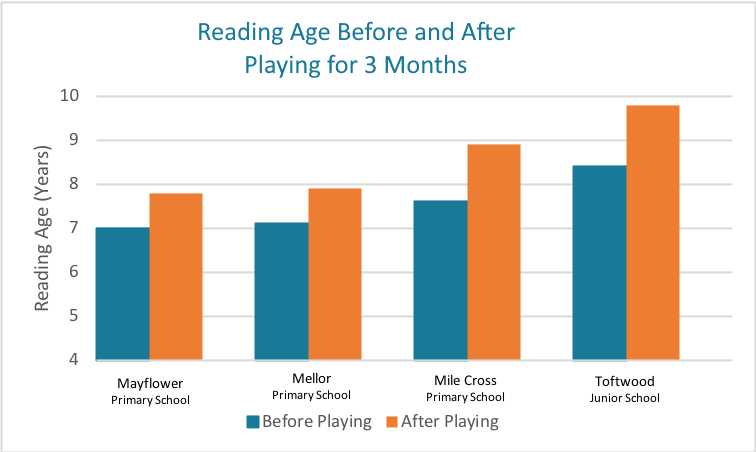 All children have made accelerated progress - some now have a reading age higher than their chronological age.
Eileen Maceachem, SENCo
Mile Cross Primary School, Norwich
Improvements in Reading
In formal trials, children (aged 7-11) who were at least a year behind, improved their reading by 12 months in less than 10 hours of playing Dyslexia Gold.
They played Dyslexia Gold for 10 minutes a day, for 3 months, and on average their reading age increased by a year.
But one of the most exciting things was how well it worked for the very weakest pupils.
Improvement in reading speed
after playing for 3 months
Victoria was 10 years old, but had a reading age of only 5y 4m.
She made 17 months progress in 3 months.
This online tool encompasses many of the areas that are usually done in a specialist 1:1 lesson. You are getting this focused teaching of the underpinning skills for reading and spelling in an easy to use package. We have had great success with our students. Highly recommended.
Kate Bodle, SENCO
St Mary's School, Henley on Thames
Improvements in Spelling
In formal trials pupils improved their spelling age by an average of 10.5 months.
Primary pupils made 13 months progress after playing Spelling Tutor, for 10 minutes a day, for a term.
The children, and their teachers, noticed how much their spelling had improved in their everyday writing, not just in tests.
Secondary students made on average 9 months improvement, which is incredible for secondary aged pupils.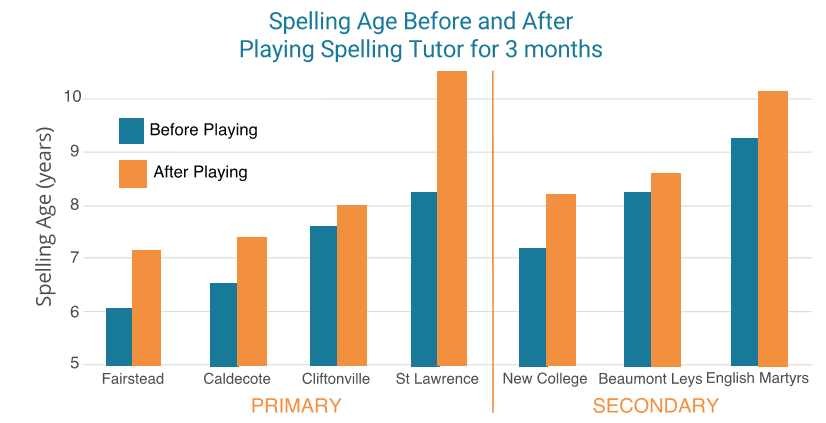 I have been using Spelling Tutor for a term with seven year 5 children who had poor spelling. Each day over the term they completed the program which was personalised to their errors.
It was great to see their confidence in their own spelling grow in daily written work. At the end of the term the average increase in their spelling ages was 16 months!
Tanya Costa, Teacher
Whitehall Junior School, Uxbridge